The National Exchange Club officially adopted the prevention of child abuse as its National Project in 1979 at the 61st National Convention.
Exchange provides a variety of public awareness materials, designed to help inform and increase awareness of child abuse and how it can be prevented. These are used in conjunction with Exchange Clubs and Exchange Club Child Abuse Prevention (CAP) Centers.
Additionally, Exchange supports and engages in a number of annual activities designed to heighten awareness of child abuse and its consequences. Through participation in Child Abuse Prevention Month each April, National Headquarters in Toledo, OH, and clubs across the country work with government agencies, local and national partners, and their communities to draw awareness about prevention of this social crisis. Specially-designed materials are made available at this time of year, including action-oriented Exchange Today articles, all intended to help Exchange Clubs, members, and communities work to prevent child abuse.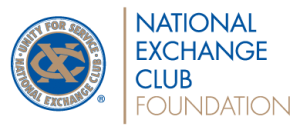 For more information or to donate, visit the Foundation page of the National Exchange Club website.